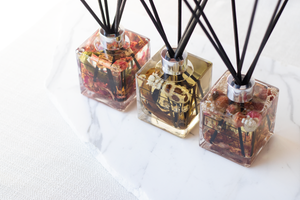 Infused Reed Diffuser Collection
---
Diffuse your room with an aroma of luxe with our botanical infused reed diffusers. Our scented reed diffusers are handcrafted with the finest fragrance oils, blended with a premium diffuser base and combined with botanical enhancers. The diffuser scents are released through black fibre reeds which flows through seamlessly as they have been produced to diffuse scent stronger and without discolouration.
Each reed diffuser scent has its own unique aesthetics according to the scent's fragrance notes. All of our scented reed diffusers are infused with dehydrated botanical enhancers for a long period of time, as this maximises the scent's natural fragrance. This will allow an even stronger scent throw to disperse. Hand poured in small batches, we carefully blend and decorate to deliver an unmatched, aesthetically pleasing home fragrance, making our reed diffusers the perfect gift for yourself or for your loved ones. 

℮ 210ml | Lasts up to 5 months 
W 68mm x H 95mm
Inclusive of 6 Black Fibre Reeds
Tips:
Upon first use, dip your reeds in the diffuser oil and flip to face upright to begin scent diffusion. Flip your diffuser reeds every 6-7 days thereafter to refresh the scent flow. Regular rotation of the reeds will decrease the longevity of the reed diffuser. Small spaces only require 3-5 reeds. 

* Please note, that all dried fruits and flowers are subject to seasonal availability and the combination of botanical enhancers may look slightly different from the design captured in the photographs. Please also kindly note that the diffusers may colour over time due to the enhancers / fragrance oils. The volume of liquid will also vary depending on the enhancers added to the diffuser. Each diffuser also has a minuscule amount of a broad spectrum water soluble preservative to protect the reed diffuser from bacteria.