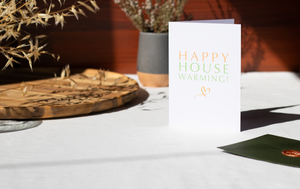 Customisable Greeting Cards
---
Complete your gift with a customisable greeting card. Let our cards help you speak from the heart just-that-little-bit-more with a beautiful range of envelope colours, wax stamp designs and wax seal colours to choose from. Mix and match colour combinations or choose complementary pairings to suit your loved ones!
All Greeting Cards are inclusive of: an envelope and wax seal with your choice of colours and stamp design. Wax seals are pre-made and come with an adhesive sticker backing.

Size: A6 105 x 148mm
Paper: 340gsm card stock
Envelopes: Premium textured envelopes milled in Japan & Korea
 
Are you sending your gift directly to a loved one?
We're happy to assemble the card for you, free of charge! Write your personalised note in the message box provided.
*Please note that if you choose this option, we will print your personalised message and seal your customised wax seal directly onto the envelope with love and elegance. We will also not include the invoice in your order. If your gift is not being sent directly and you'd love to see the card first, please let us know in the message box and we will send you a pre-made wax seal.


Designed by Le Marz Fragrances ™
Printed and packaged in Australia. Our premium textured envelopes are milled in Japan & Korea.