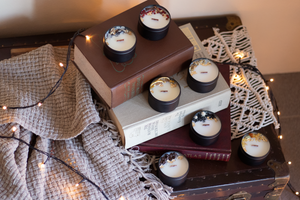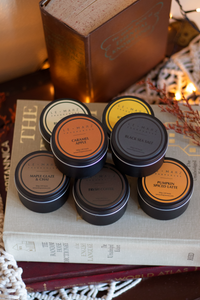 Our Products
All Le Marz Fragrances products are hand poured and handcrafted in small batches to ensure quality control in each and every product we create for our customers.
With a range of aromatic fragrances, Le Marz Fragrances designs the perfect aesthetically pleasing gift for you or your loved ones. Our botanical enhancers have been carefully chosen for each product, taking into the consideration its scent description to create our signature home fragrance products.
Detail is at the heart of what we do from designing our packaging, to the photography, the styling of our photoshoots, editing images and content, handmaking the products, dehydrating and packing orders. 
Here at Le Marz Fragrances, we strive to do the best, to make the best for our customers.
Our Wax
Our candle wax is made from a luxurious vegan blend of natural coconuts, apricots and soy and food-grade paraffin wax. It is gluten-free, toxin-free, paraben-free, phthalate-free, carcinogen-free, mutagen-free and comes from renewable sources. Our wax is clean burning, burns slowly and evenly, leaving your candle tops silky smooth after every use. It has an excellent hot and cold throw, meaning that the wax is able to hold the fragrance really well and releases the scent of the oils better than most candle waxs.
Our scented candles are carefully blended and cured with the highest quality of fragrance oils and are hand poured in small batches to ensure a strong fragrance throw for the entirety of the candle's life.
Our Wicks
We use natural wood wicks in all Le Marz Fragrances candles and they're sourced from native sappy fruit trees. Wooden wicks are sustainable, eco-friendly and they are clean-burning leaving no carbon build-up and little debris. They also offer a longer burn time, maximising the life of your Le Marz Fragrances candle. Our wooden wicks have a double booster emitting a beautiful crackling sound creating a calm and soothing atmosphere reminiscent of a fireplace.
Let customers speak for us
Let customers speak for us