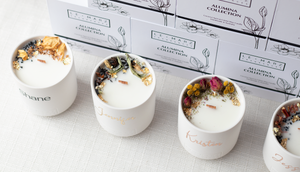 Personalised Alumina Collection
---
Personalise your own wood wick candle with 'Alumina'. Handpoured into high quality ceramic vessels, this range is customisable offering a variety of scents to choose from, up to 3 botanical enhancers of your choice, personalised name, fonts and colour vinyls to choose from. Our ceramic candles come with a matching-coloured ceramic lid to keep the dust away, preserve the candle's fragrance and shelf life. 

The collection name 'Alumina' was inspired by one of the materials used in producing ceramic products. 'Alumina' is a white granular powder that acts as a refractory agent to help create heat-resistant products.

'Alumina' was created for you to add your personal touch and to elevate these candles, your way.

Alumina . 320g | 58 hours | W 85mm x H 94mm

*Please kindly note that all dried fruits and flowers are subject to seasonal availability. Gold Flakes may also fade over time. Please do not be alarmed as this is only discolouration and does not affect the candle's performance. If you do not wish for your candle to be decorated, please let us know in the 'Special Instructions' section at checkout.