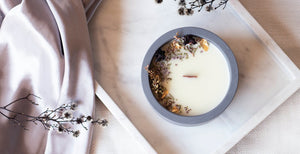 Concrete Candle Collection
---
Our candle wax is made from a luxurious vegan blend of natural coconuts, apricots, soy and food-grade paraffin wax. It is gluten-free, toxin-free, paraben-free, phthalate-free, carcinogen-free, mutagen-free and comes from renewable sources.

Our scented candles are carefully blended and cured with the highest quality of fragrance and essential oils and are hand poured in small batches to ensure a strong fragrance throw for the entirety of the candle's life.
We use natural wood wicks in all Le Marz Fragrances candles and they're 
sourced from native sappy fruit trees. Wooden wicks are sustainable, eco-friendly and they are clean-burning leaving
 no carbon build-up and little debris
.
They also offer a longer burn time, maximising the life of your Le Marz Fragrances candle. 
Our wooden wicks have a double booster emitting a beautiful crackling sound creating a calm and soothing atmosphere reminiscent of a fireplace.
Our Concrete Candle Collection comes in three different sizes; Alkaline, Magnesia and Iron Oxide. These names were inspired by three of the eight major ingredients used in producing cement. 

Alkaline . 270g | 42 hours | W 110mm x H 70mm
Magnesia . 320g | 62 hours | W 90mm x H 110mm
Iron Oxide . 550g | 47 hours | W 150mm x H 70mm
Our Wood Wick Candles also come in two colour options; Graphite Grey and White Mist. Each candle comes with a matching-coloured concrete lid to preserve the 
candle's fragrance and shelf life. Our lids also have a triple silicone seal around the base for extra support. We advise using the lid after the first few burns to avoid crushing the botanical enhancers and as the lids are quite deep. Candle lids may also be used as a trivet to protect your table from the heat. 

* Please note that our candle jars may have slight imperfections and vessel chipping due to its raw, natural material. Our candle lids will be packaged separately to avoid collision damage of the candles during shipping. This also allows more room for us to fill up your candles! Please also kindly note that all dried fruits and flowers are subject to seasonal availability and the combination of botanical enhancers may look slightly different from the design captured in the photographs. Gold Flakes may also fade over time. Please do not be alarmed as this is only discolouration and does not affect the candle's performance. If you do not wish for your candle to be decorated, please let us know in the 'Special Instructions' section at checkout.